Landlord gas safety in Hanwell with a trusted plumber
Use a trusted and local plumber to get your boiler serviced.
Landlord Gas Safety Certificate in Hanwell
For rented properties it is the Landlord's responsibility to ensure it is gas safe. Landlord's in Hanwell and in every other Borough in the UK must provide their tenants with an up-to-date Gas Safety Certificate. The certificate is to show that gas appliances have had an annual gas safety inspection check by a Gas Safety Registered engineer. Heywood Heating has a team of registered engineers who can help.
 If you're a new landlord in Hanwell and your 'contemplating' getting a Gas Safety Certificate think again. There is no contemplating – it is a legal requirement that Landlords make sure all gas appliances, pipe work and flues are checked annually by a Gas Safety registered engineer.
Customer satisfaction
We value customer satisfaction in Hanwell and surrounding areas and we believe in providing premium quality work above all else. Making sure properties are gas safe to give landlords piece of mind and to make sure the home is safe is of upmost importance. Heywood Heating carried out job like this for 20 years so be rest assured you're in good hands.
Our customers rate our plumbers work through an independent trusted ratings site. Checkatrade.com makes sure you can be assured of finding a professional and trusted engineer in your area. 
"Pat from Heywood was polite, helpful and prompt. When there was a small (and unavoidable) problem with my heating shortly afterwards, he popped back the morning I rang Heywood and repaired it free of charge. Afroz of Heywood also repaired a boiler issue recently and was similarly courteous, helpful and punctual. Both Pat and Afroz explained the workings of the boiler and the reason for problems clearly and patiently and left me feeling more confident about how to use my heating. An excellent company."
"Always on time, helpful and courteous. Take time to explain what it is they are doing and give advice highly recommended."
"Serviced provided safety certificates for the gas boilers in my three flats having installed the heating system originally.
Excellent service as always. Speedy, reliable, efficient and pleasant to have around!"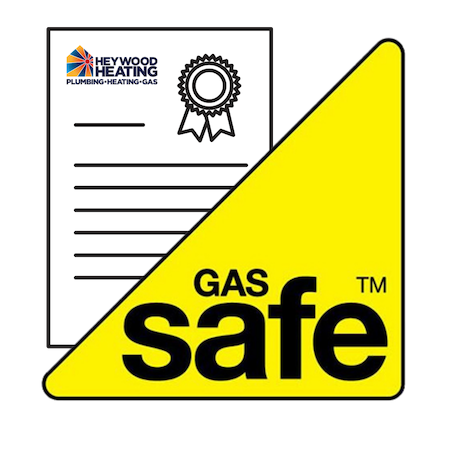 Gas safety inspection – landlord gas safety in Hanwell, Chiswick and surrounding areas
Once Heywood Heating have carried out a gas safety inspection on a gas appliance we will issue the landlord a Gas Safety Certificate. The Gas Safety Certificate will give a description and the location of each appliance checked on completion of the job. Gas Safety Certificate will explain what checks we carried out. It will also outline any remedial work required. It will also show work completed and when it needs to be checked again.
It's important that the landlord provides the tenant with this Gas Safety Certificate within 28 days of the inspection being carried out or at the start of a tenancy.
Rates
Most of our rates are outlined on our rates page. If there's anything you'd like to learn more about regarding rates call or email us and we'll be happy to give you a quote.
See our rates